Freediving, Pranayama & Dhyana Yoga Retreat (4D3N)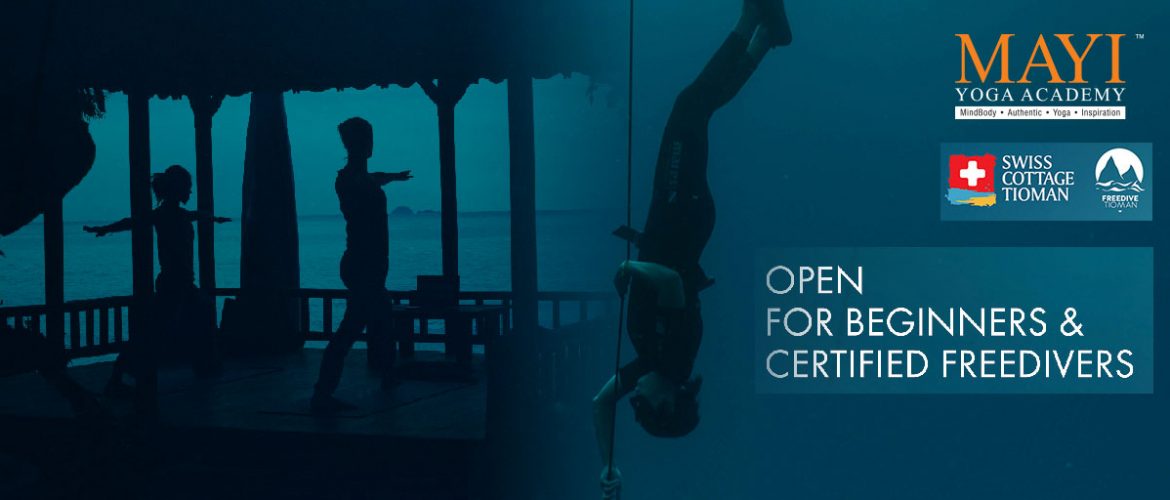 DATE: 9-12 May 2019
LOCATION: Swiss Cottage Tioman Malaysia
RETREAT DESCRIPTION
In this retreat you will not only practice Hatha yoga but also will experience a first introduction to freediving combining it with the benefits of yoga practice, learn a little more on the techniques and benefits of Pranayama (breathing techniques) and Dhyana (Meditation) which not only helps you to enhance your practice in yoga but also in freediving.
The focus is on enjoying the new sensations in the ocean under our supervision, while getting a taste of freediving by learning about physiological aspects, technique, breathing, equalisation and safety in a theory session before. There will be a short theory to explain and introduce techniques of breathing in Pranayama and techniques in Dhyana meditation.
Participants will be guided through practice in our sunrise and sunset yoga sessions and help with proper breathing techniques in preparation for dives.
Participants will discover step by step that they can hold their breath much longer than they think and will gain confidence in exploring the beautiful reefs of our oceans.
Certified freedivers are welcome to join as you will benefit from a more in-depth understanding to Pranayama and also dive a little deeper in your meditation practice with extra training during water sessions and static sessions.
Who should attend this retreat?
Beginners

with no certification to freediving can attend to discover the world of freediving.

Certified freedivers

interested in enhancing their knowledge of Pranayama (Breathing techniques).
Those who are interested in learning

meditation

in order to enhance focus while freediving.
Those who are interested in

yoga and freediving

.
Freediving Discovery Theory
What is freediving?
Physiological aspects of breath hold
Breathing technique
Equalisation
Diving technique
Safety and equipment use
Freediving Discovery Water Session
Dive up to 10m
Instructors dive down with each student
Improve your snorkelling skills
BreathHhold Workshop (theory and practice)
Mental strategies and physical sensations of static breath hold
Exercises on dry land
Static breath hold in the water
Half-Day Freediving Trip
Explore the beautiful surrounding islands around Tioman where we can practice our freediving skills. We will stop at the stunning Mangroves of Coral Island for a static breath hold workshop, followed by a picnic.
Hatha Yoga Sessions Outline
The yoga sessions practiced during this retreat will be more specific to what we are trying to achieve to prepare the body and mind for freediving. We will practice a few different types of awareness and guided visualisation, a few asanas that are most beneficial for use in freediving practice followed by Pranayama and Dhyana practices
Pranayama (Breathing Techniques) – the 4th Limb of Yoga
Pranayama plays a huge role in our lives simply because it depicts our well-being. As we learn to control and manage our breath progressively, the positive energy in our body increases. Through proper Pranayama practices, the body is being supplied with oxygen while toxins are gradually removed. In freediving Pranayama plays a very important role as one uses a number of breathing techniques to prepare us for the dive such as Yogic breathing, Kapalbhati Pranayama and Uddiyana bandha to name a few.
Benefits of Practicing Pranayama
Improve health and heal diseases.
Achieve self-realisation, bestow joy, peace and happiness.
Awaken, balance and heal the chakras (energy centres).
Increase energy, vitality and metabolism.
Overcome insomnia and help break bad habits.
Heighten concentration and mental focus which is an advantage in preparation for breath hold.
Dhyana (Meditation) - the 7th Limb of Yoga
Meditation helps us gain clarity and focus. It also heighten one's state of relaxation, confidence and improve relationships. Improves health, general well-being, promotes inner calmness and centredness. Helps to consistently raise performance levels, cope with stress and maintain a steady state of mind. All which are beneficial in preparation for freediving and keeping the mind focus and calm throughout the dive.
Benefits of Practicing Dhyana
Exploring the full mind-body potential and healing the body through the mind.
Concentration of thoughts and experiencing the super mind.
Clarity of mind and exploring the superconscious state.
Understanding the psychology of the mind.
YES, I WOULD LIKE TO SIGN UP FOR THE NEW ADVENTURE!