Vegan Sticky Date Pudding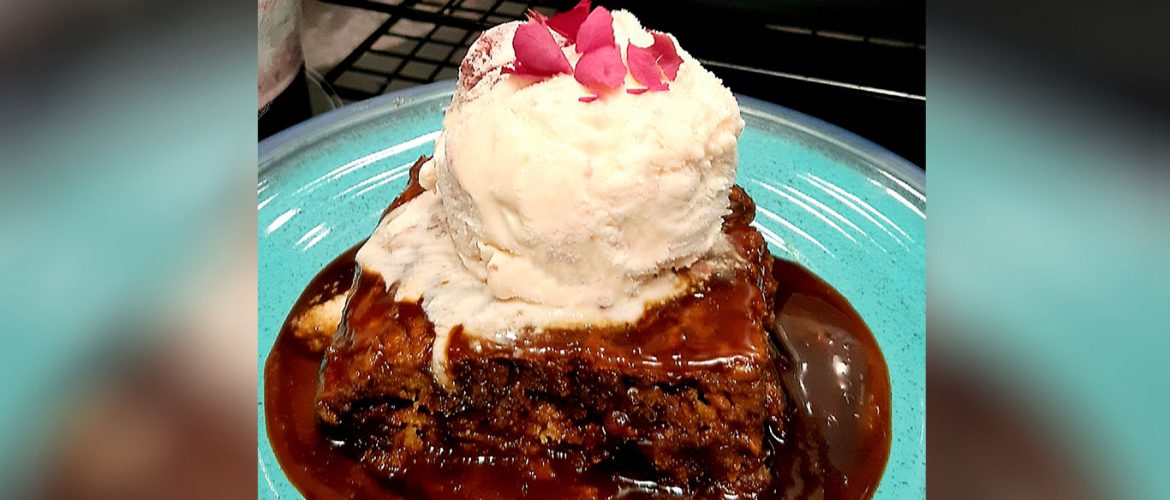 Wet Ingredients:
180g Dates (kurma), (about 20 pcs) pitted, chopped as finely as well.
400ml Organic soy milk
2 teaspoons Apple cider vinegar
5 tablespoon/75ml Extra virgin coconut oil
1 tablespoon Organic black strap molasses
Dry Ingredients:
250g Unbleached all-purpose flour
1 tablespoon cornstarch
1 1/2 teaspoon baking powder
1 teaspoon baking soda
1/2 teaspoon cinnamon powder
1/4 teaspoon ground nutmeg
Pinch of salt
40g Organic coconut sugar
Caramel Sauce:
200ml Coconut milk
200g Organic coconut Sugar
1 tablespoon Organic black strap molasses
Decoration:
Method:
Preheat oven to 200°
Place the organic soy milk and dates in a saucepan and bring the mixture to a boil. Turn off the heat, and set aside.
Grease 9-inch square baking pan with oil and place a layer of parchment paper. Set aside.
In a large mixing bowl, mix all the dry ingredients except organic coconut sugar.
When the dates have softened, add in the rest of the wet ingredients in the saucepan and stir evenly.
Pour the wet ingredients into the large mixing bowl with the dry ingredients. Mix all into the batter. Then, add in the organic coconut sugar and mix it gently.
Pour the batter into the baking pan and place it in the oven. Bake around 15 minutes, then lower the temperature to 180° Bake for another 25minutes until golden colour, or a toothpick inserted in the centre comes out clean.
Once baked, allow the cake to cool a bit then use toothpick the poke holes all over the top of the cake.
Warm up the caramel sauce in a sauce pan, and pour it on top of the cake.
Serve warm with a scoop yogurt ice cream and some extra caramel sauce.