MAYI Graduation 2018
November 26, 2018

Posted by:

admin

Category:

Event

,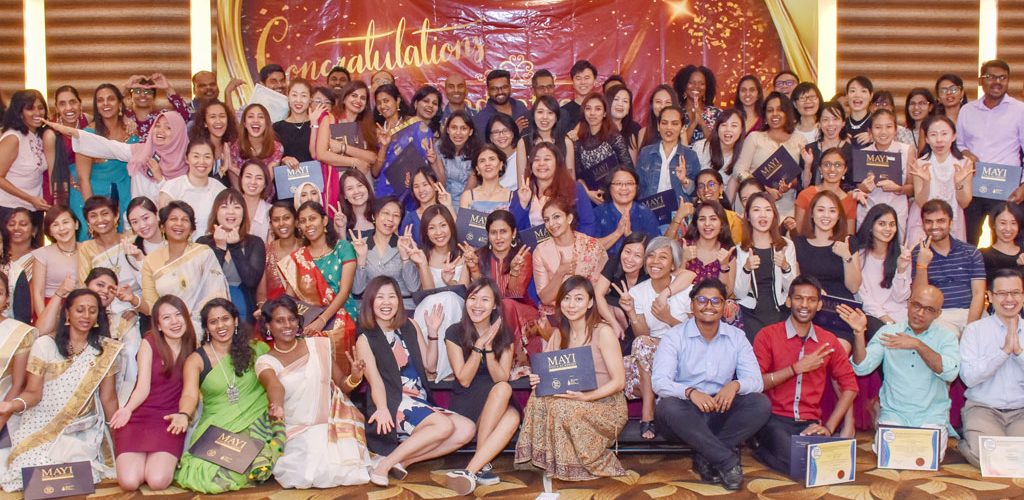 The annual MAYI Yoga Academy Graduation Ceremony for 2018 was held on November 25, 2018 at Silka Maytower in Kuala Lumpur.
Upon arrival, graduates were greeted by MAYI Infinity who made a presence to share the natural goodness of their high-quality natural products. With seven personal care products on display, we see many wellness enthusiasts were in awe by the superb ingredients contained in each product.
The ceremony was officiated by Master Manisekaran with a speech to congratulate all the graduates while sharing his insights and importance of continuous learning and sharing, followed by the opening performance by graduates of the International Yoga Instructor Course showcasing their skills and talent in a combination of Dance Yoga and Partner Yoga poses.
The class of 2018 sees 240 graduates graduating from their respective courses.
Those who were present for the ceremony, proudly received their certificates for completing the training in these respective courses – the International Yoga Instructor Course, Pranayama (Breathing Techniques) Instructor/Practitioner Course, Dhyana (Meditation) Instructor/Practitioner Course, Super Yoga Kids Instructor Course, Pregnancy Yoga Instructor Course, Yoga Therapist Certification Course, Ayurveda Massage Therapist Course, Ashtanga Yoga Instructor Course, Kundalini Kriya Yoga, Prana Vidya, Manipuraka and Urdhva Retas.
The certificate presentation was, itself, an amazing lesson as Master Manisekaran shared his thoughts and philosophies of the various practices of yoga, whilst some of the graduates shared stories of their journey depicting the deep and profound life lessons they have gained throughout their participation in the yoga courses. We thank Uma Ramasamy, Isabella Raniee Silvester, Leong Suit Wan, Chan Soon Wei and Gomathi Rajendran for their warm sharing!
The crowd was elated when they were informed of the 5 MAYI Hot Seats contest. The 5 lucky winners won themselves rebates for Yoga courses and free participation of MAYI Wellness Yoga Workshops which are a great way to continue their yoga practice. The ceremony ended with a large group photography session and many stayed behind to mingle and re-connect with fellow course mates.
Congratulations to Class of 2018!