Yoga Education Can Supplement School Education
September 3, 2018

Posted by:

admin

Category:

Event

,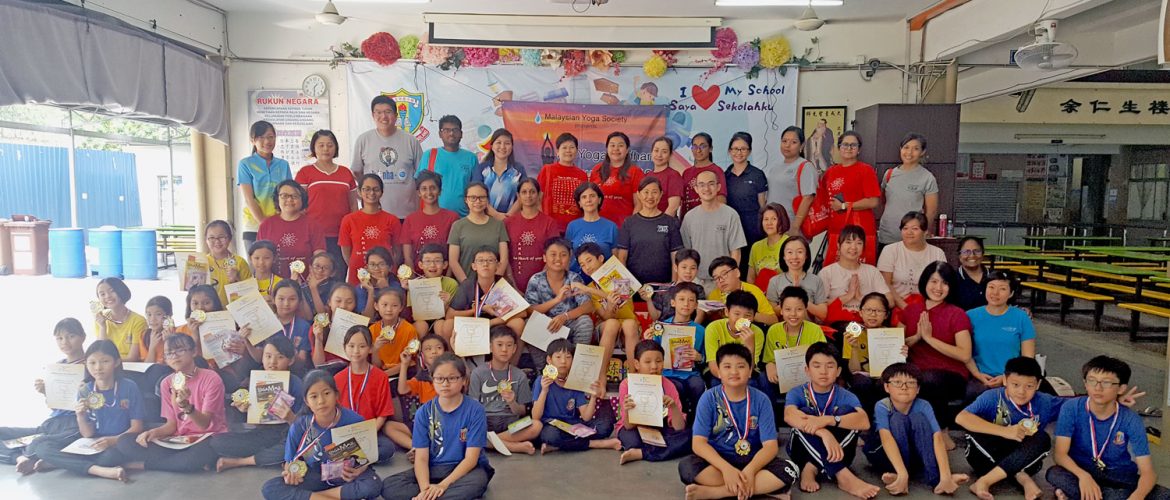 By Nicole Yong
Yoga education can nurture the students in many ways and help to balance their physical and mental faculties. It will help them develop all the activities of the students, be it academic, sport or social. Yoga practices are truly transformational. Yoga provides improved concentration in studies, better stamina for sports, higher awareness and a balanced attitude.
On September 02 2018, at SJK (C) Chung Hua Klang, Kota Kemuning, the Malaysian Yoga Society (MYS) team, led by 24 yoga instructors and volunteers, began My Yoga Sadhana half-day Camp for 40 Standard Six students. A few teachers and parents joined too. The kids got familiar with fellow schoolmates and yoga instructors really fast and became highly interactive.
My Yoga Sadhana Camp was structured to cover the following topics:
Hatha Yoga

: The general yoga therapy to fuel the body and mind.
Talk:

Healthy Eating

: Let the Food be the Medicine & Increase Vitality

Pranayama

(the yogic breathing practices), Concentration and Mindfulness practices: to revitalise and calm the body and mind, stabilise moods, develop concentration and increase self awareness.
Talks and Kids'

story-telling

performance: Group performance related to Yama and Niyama topics — the moral ethics towards society and self-discipline.

Yoga games

: to release all the nervous energy, to let the kids learn about sharing, unity and teamwork.
In order to teach good values, the yoga instructors guided the kids to do Karma Yoga activities, such as cleaning up the hall, settling the mats, etc.
Overall, the kids enjoyed the activities and had a cheerful learning experience. The headmistress, teachers and PIBG members expressed their appreciation and said they were looking forward to such events again. Thank you to all the students, teachers, headmistress, parents, yoga instructors, volunteers, MYS founder Master Manisekaran, Teacher Pushpa and fellow committee members for making this event a success. These days, children live in a rushed environment, with stress and exams weighing on them. They have excessive energy that is mostly suppressed and spend the major part of their time taking in all information they get in school.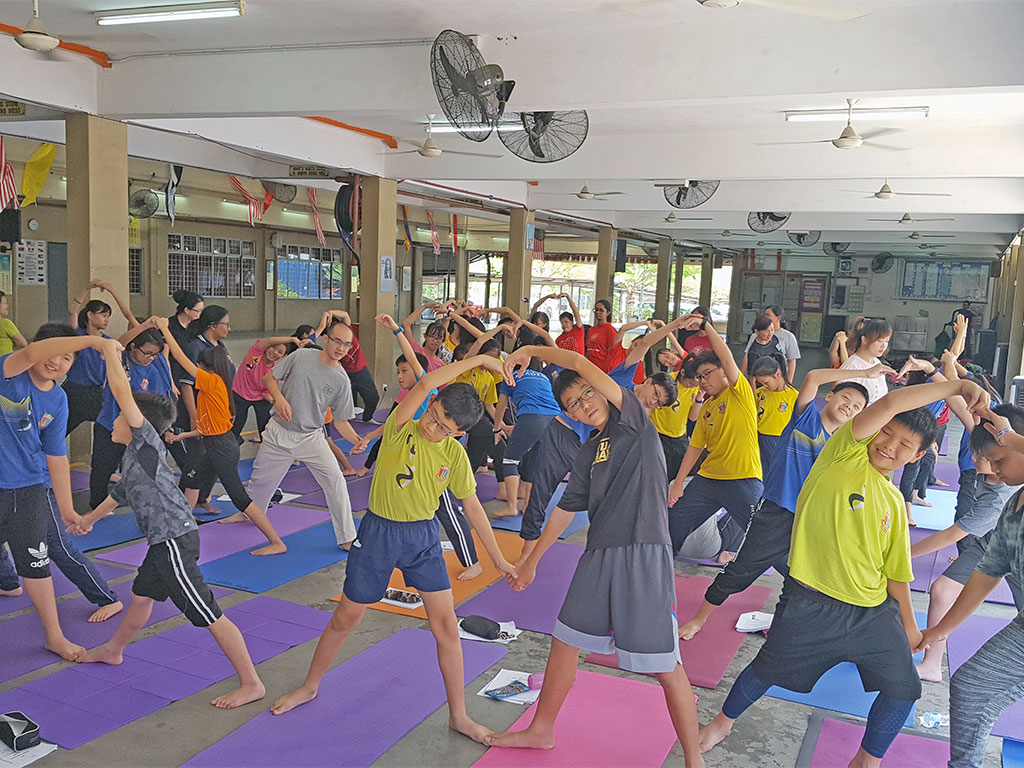 Yoga practices can make a huge difference in their lives. It helps them release stress, become more interactive and take on a more positive attitude towards studies. Schools that are interested to conduct a half-day or one-day Yoga Camp programme are welcome to call or write in to invite the Malaysian Yoga Society team.
For the arrangements, please contact:
Malaysian Yoga Society
No. 3, Jalan Ang Seng 3, 50450 Brickfield, Kuala Lumpur
Tel: 03-2260 5322