30 DAYS YOGA CHALLENGE #letsyogawithmayi
July 17, 2017

Posted by:

admin

Category:

Event

,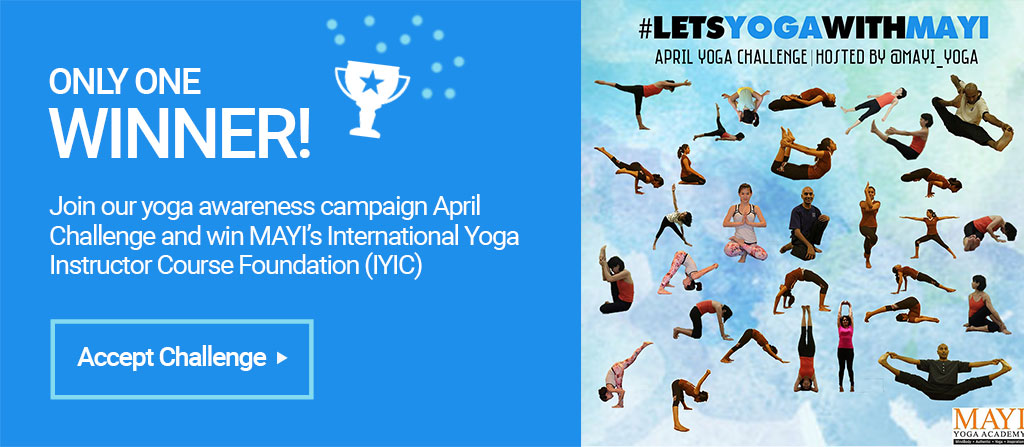 By Kavi Vitya
The purpose of yoga is to achieve a state of balance in body and mind with the practice of awareness and good discipline. A challenge to the body is a challenge to the mind. Recently MAYI Yoga Academy launched a 30-day Yoga challenge on social network.
The objective of the challenge was to explore commitment, consistency, curiosity, connection and community, while developing discipline and well-being through yoga practices, and most importantly, to build Tapas — the cultivation of wilful discipline. By practising every day during the challenge period, one would have had the opportunity to nurture his/her ability to focus and develop the sense of commitment necessary to remove blockages in life.
The rules of the challenge were simple. MAYI announced the pose of the day in Instagram and Facebook pages. Participants had to snap a picture of them performing the pose and post it on Instagram or Facebook with the hashtag #letsyogawithmayi. At the end of the challenge period, a winner was selected by a panel of judges. The winning prize up for grabs was enrolment for the International Yoga Instructor Course (IYIC) worth RM3,000.
About 30 local and international participants took part in the challenge. MAYI would like to thank all of them! The participants provided excellent feedback.
 "As an IYIC graduate, I took part in the challenge just for the fun of it, however, it was quite challenging to perform the asanas (postures) daily regardless of whether I was working, out for the whole day, sick, etc. But it enabled me to review what I had learnt, such as the name and benefits of the asanas. It had inspired me to continue my yoga journey. Thank you for organising this challenge. "
  ~Yoko Yamada
"First of all, thank you for hosting the April Yoga Challenge! It was both exciting and challenging to execute each asana daily, especially when we were caught up with so many other daily chores. The 30-day challenge actually tested my self-discipline to practice yoga almost every day. It was a motivation for me each day to push my body and mind a little bit more."
 ~Caroline Louise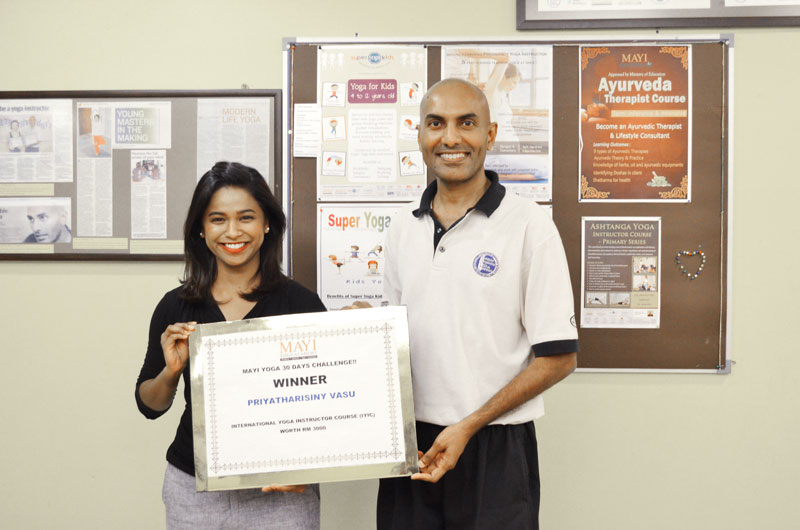 MAYI Yoga Academy would like to congratulate the winner, Priyatharisiny Vasu for winning a placement in IYIC.
This is what she said:
When a friend of mine, who is an avid yoga practitioner, told me about the 30 Days Yoga Challenge, I thought I could never strike those limb-twisting acrobatic poses; but guess what, it was not impossible. Personally, I had many breakthroughs in my asana abilities during the challenge period.
It was fun and a great learning to continuously dedicate and discipline myself to do the postures. There were days when certain poses seemed impossible, but I did it by approaching it in a comfortable and moderate manner, as what the MAYI instructors told me to. The point is, do not hurt yourself. It has been a great avenue for me to test my own limits, or the limits that I thought and believed I had. And to know that I won the 30 Days Yoga Challenge, oh boy, what a joy!
The challenge is a huge accomplishment for me. I must also applaud those who contended with me as all of them were awesome in their asanas. All those who showed up on their yoga mats at least 30 times in the 30 days are winners too!
MAYI Yoga Academy will be coming up with more exciting contests and events to encourage everyone to practice yoga and lead a healthier lifestyle. Stay tuned!