International Yoga Day (2017) Fun at the Lake Gardens
June 18, 2017

Posted by:

admin

Category:

Event

,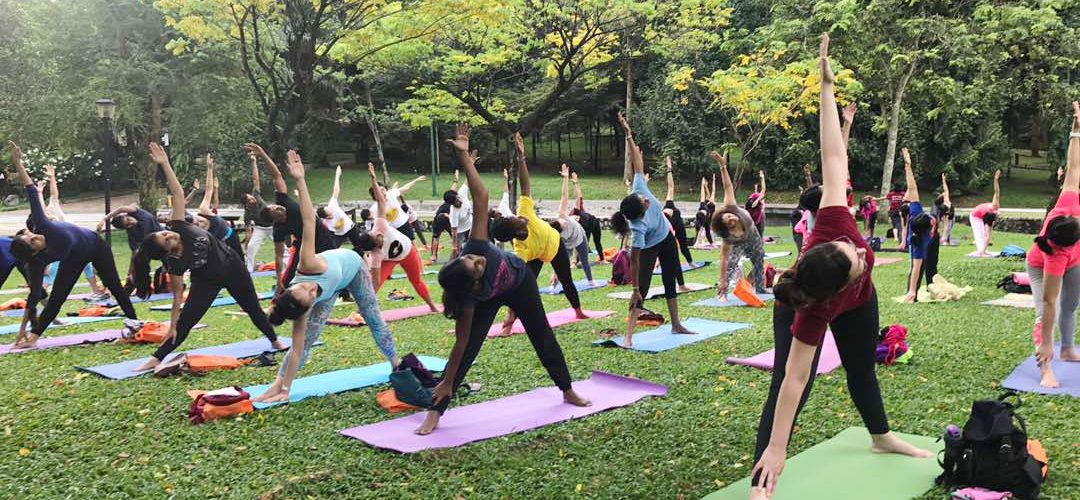 In the wee hours of June 18 2017, a steady stream of avid yoga practitioners was seen flowing to one of the many lovely yards at the Lake Gardens. It was exceptionally delightful to welcome those who came with their spouses, parents, friends or toddlers in tow.
By dawn, the lawn was filled with colourful mats and vibrant smiles. All participants were greeted with a welcome gift by MAYI Yoga Academy. The occasion was to celebrate the International Yoga Day 2017. Bestowed with a great weather and a serene environment, the 2-hour yoga session, led by Suki Liew and Priya Tee, gained the attention of many regular joggers and health enthusiasts who were curious about yoga and its benefits.
On June 21 2017, the actual day of the International Yoga Day, MAYI Yoga Academy offered free yoga classes to its students and members of the public throughout its six studios. The free classes included Anti-Aging Yoga, BodyTone, and Breath & Mind Yoga, to name a few. The studios were flocked by regular and new faces alike – all with the interest to better their health through yoga practices!
The intention of the Yoga Day celebration was to bring general awareness about yoga and its immense benefits to the public. Let's hope people will be attracted to pursue a complete Yogic life for a lifetime of health benefits.
A clear and calm heart, and a steady mind to guide them all the way to a pristine peak and beyond… now, who wouldn't want that?
Breath in, breath out and be ready for a fantabulous yoga experience.