MYS Yoga Clinic 2017
June 4, 2017

Posted by:

admin

Category:

Event

,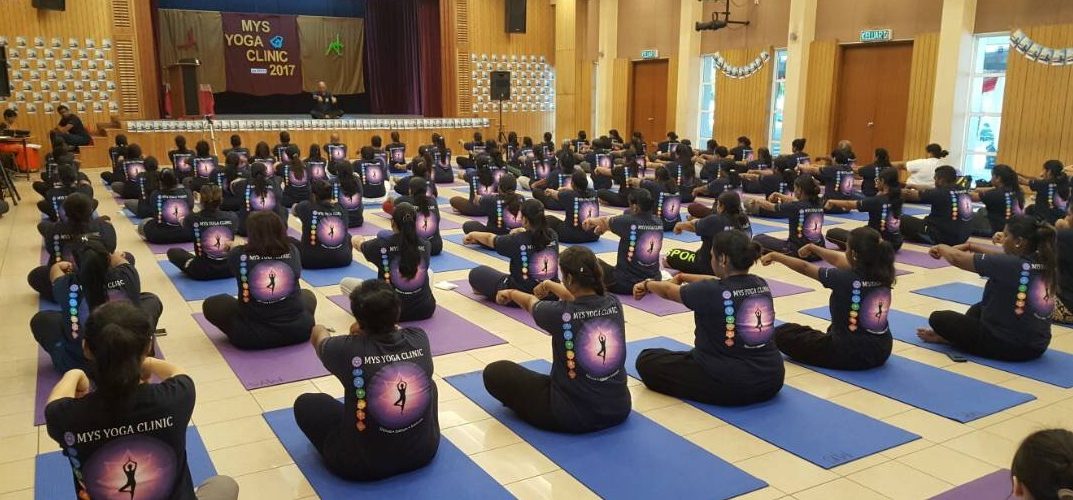 By Chandramalar.K
The MYS Yoga Clinic 2017, initiated on the 4th June at three specific locations; Desa Mentari, San Peng and Sentul Pasar, drew to a close on the 17th September. The programme was funded by SEDIC, and organised by the Malaysian Yoga Society (MYS) for the Malaysian Indian community.
The overall programme was spearheaded by Ravin.S, for 14 consecutive week's at all three locations, simultaneously. The programme was guided by MYS founder, Master Manisekaran, and supported by MYS instructors and volunteers. This young dynamic devout leader, Ravin.S, who is always dapper in appearance, definitely has a story to tell.
"The work involved in this divine project is almost 7 times challenging than the earlier Karma Yoga work conducted for children in National Yoga Camp 2016. Sharing one of the initial work: We tried reaching out to the community via various sort of social media but to no avail. I decided to go and meet them directly. Believe it or not, I formed a special team and we went to the locations, from house to house, knocking on their doors and by the grace of the almighty universe, we met our target.

I am so thankful to my MYS comrades. I could not have done it without their support. Via unity, anything is possible"
We exceeded target of participants
The Ministry in the Prime Minister's office requested for a minimum of 30 participants at each location, but we had exceeded their targets beyond with average participant of 40 at each location. Unbelievable but true, the participant's attendance and punctuality throughout the programme at all three locations was extremely encouraging. That was the drive in them to acquire this new yogic science and its philosophy.
The weekly 'clinics' were prudently tailor-made in such a way that there were not only practical sessions but also theory. A typical 3 hours session would kick off with 'Hatha Yoga' (asana, yoganidra, pranayama, and dhyana), which is a practical class, followed by the 'Health Awareness of Yoga (HAY)' and conclude with a 'Yoga Talk'. In the initial stages, the hatha yoga session incorporated the practice of awareness followed by the pawanmuktanasana series (joint exercise) and basic pranayama techniques. By the third week, the sun salutation was incorporated and as time went by, a variety of basic to intermediate asanas and more advanced pranayama techniques were taught.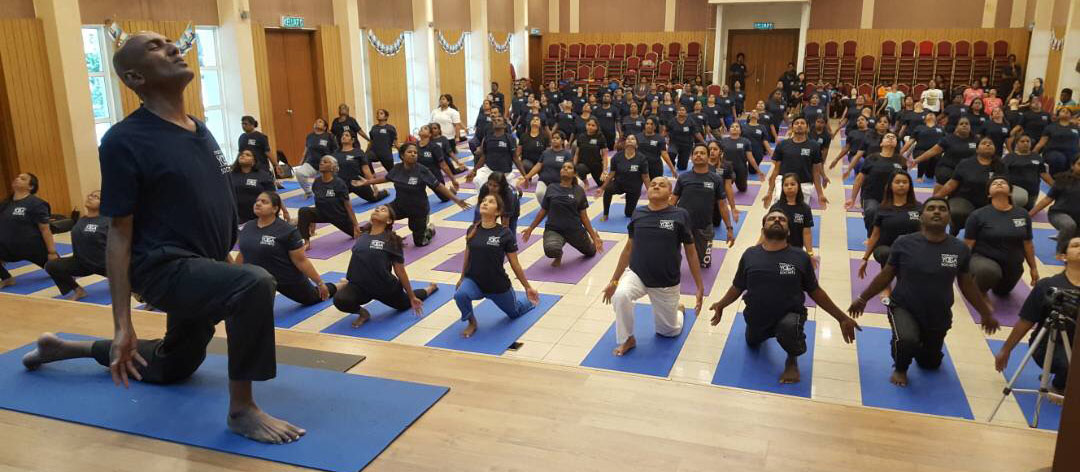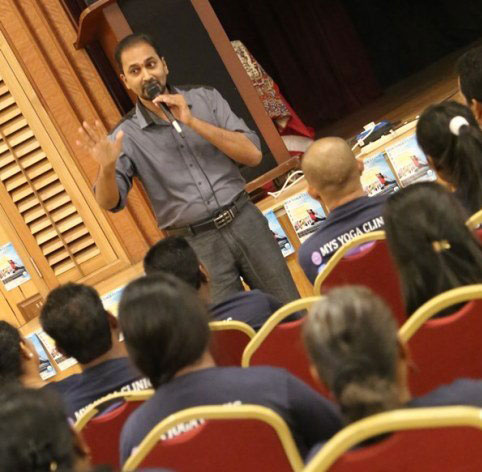 Testimonials pouring in incessantly
Amazingly, some of the participants were already seeing changes in their biological system within the first 2 weeks. These transformations motivated them to practice what they learn every week diligently. Before we knew it, testimonials kept pouring in incessantly. Hatha Yoga instructors; Master Manisekaran at Sentul Pasar, Ms.Saandhi at San Peng and Ms.Kavi Vitya at Desa Mentari, were simply awestruck by the participant's progress and determination to learn. "Some of the eager participants even stayed back after the session for clarification", said Ms. Saandhi, one of the senior instructor in MYS.
Likewise, the HAY sessions definitely did not fail to enthuse the participants, with 14 topics related to health matters. Many, who have been so dependent on modern medicine, were ignorant about the effectiveness of this ancient mind-body science.
Little did they realise how specific asanas, when coordinated with breath, if practiced diligently, would be able to either manage ailments or reduce the severity of whatever diseases they were suffering from. Some were ecstatic when they realised that yoga can help them lose weight.
The HAY wellness consultants; Master Manisekaran, Ms.Chandra and Ms.Vasugi were equally overwhelmed by the participant's interests in the human anatomy and related diseases. "I am truly so grateful to Ms.Nithya for assisting me in my sessions as a translator," confessed Ms. Chandra, who is not proficient in Tamil.
The 'Yoga Talks' on the other hand addressed great messages especially the topics on "Spontaneous Healing of Belief" and "The Heart-Intelligence in Mapping Life Success" by Ravin.S. These talks had extremely inspired and uplifted the participants, that all are pervaded with the power to translate the possibilities of our mind into the reality world. Participants were deeply seeded with scientifically proven truth that, there are no challenges that can't be overcome, no ailment that can't be cured, and no situation that can't be enhanced. Other strong talks like "Yama's and Niyama's incorporated with Mahabharatha roles", "Neuroplasticity and Yoga", and "The Complete Ashtanga Yoga" by Ravin.S, "Asana" by Mr.Durai and Ms.Anuradha, Sadhana by Ms.Anuradha and Mr. Karthigeyan, "Financial Peace" by Ms.Mona and "Ayurvedic Natural Beauty Care" by Ms.Saandhi, brought greater awareness within the participants. Our renowned speakers like Master Manisekaran and Ravin.S were able to engage with the participants at greater depth. It was truly an eye-opener for instructors and volunteers, who were there throughout the sessions witnessing the radical transformations in these participants. It is obvious that their yogic practices have transmuted them to a different level altogether.
Before participants went home every week, they were fed with a sumptuous brunch. Not only did they have thosai, idly or string-hoppers, but they were also served a variety of local cuisines such as curry-puffs and pancakes, including fruits in addition to healthy beverages such as barley or herbal drinks. The menu was concise but varied every week. Thanks to Ravin.S as F&B manager for putting his heart and soul into planning the meal for our dear participants.
Before we knew it, we were nearing week 14 – the final week of the MYS Yoga Clinic. Wanting the finale to be a special day for the participants, Ravin.S went the extra mile to plan, organise and execute an extraordinary closing ceremony. With sheer determination and conscientiousness, he and his team stayed up till the wee hours of the morning to get the Kandiah hall in Brickfields, decorated for the event.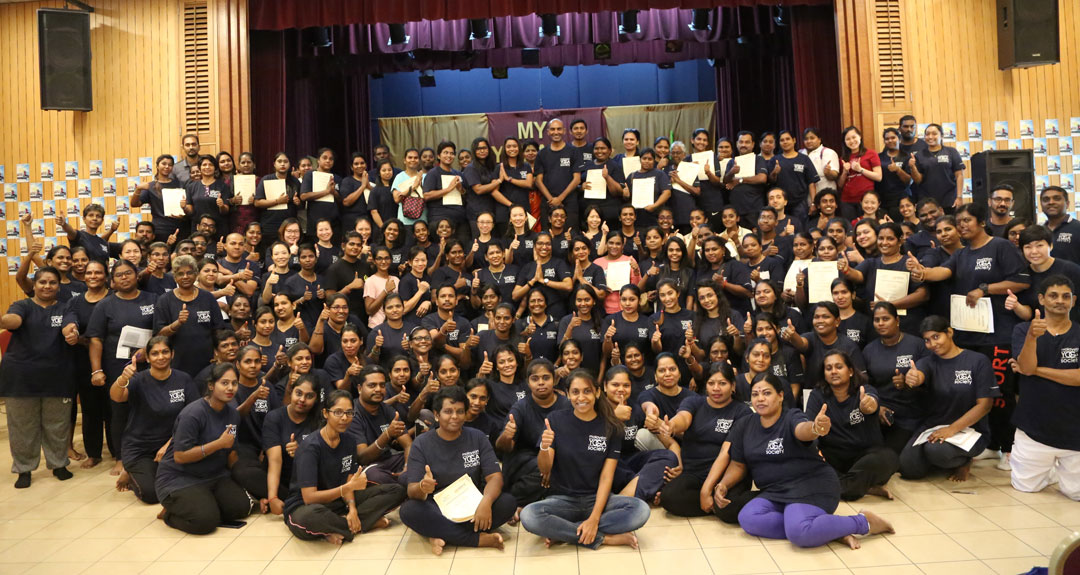 The closing was truly spectacular in its own way. Upon arrival at 7am, the 120 participants were presented with a t-shirt each, and asked to change. Ravin.S said, he wanted to see everything in unified, as one. It was really a sight to behold as they sauntered into the hall, all the 120 participants in a uniform! All credit again goes to this young man, Ravin.S, who apparently designed the t-shirt in 15 minutes! I am literally dumbfounded – never have I met anyone like him in my entire life.
The ceremony kicked off with a hatha yoga session conducted by our renowned guru, Master Manisekaran. Then, there was an experience sharing session by participants, conducted by Ravin.S. Everyone were really touched by the heartfelt statements made by the participants. Just before the participants were treated to a scrumptious brunch, all and sundry was presented with a certificate of attendance. That was not all! They also received a yoga mat and invaluable yoga notes for their practices at home.
While the participants were so grateful to MYS for conducting the clinic for them, we, the MYS instructors and volunteers are so grateful for the teachings we have received from our benevolent Guru. Every lesson in Master Manisekaran's class is a constant reminder of who we are, what we are and the purpose of our lives on Mother Earth.