MYS YOGA CLINIC 2017 – Programme information
June 4, 2017

Posted by:

admin

Category:

Event

,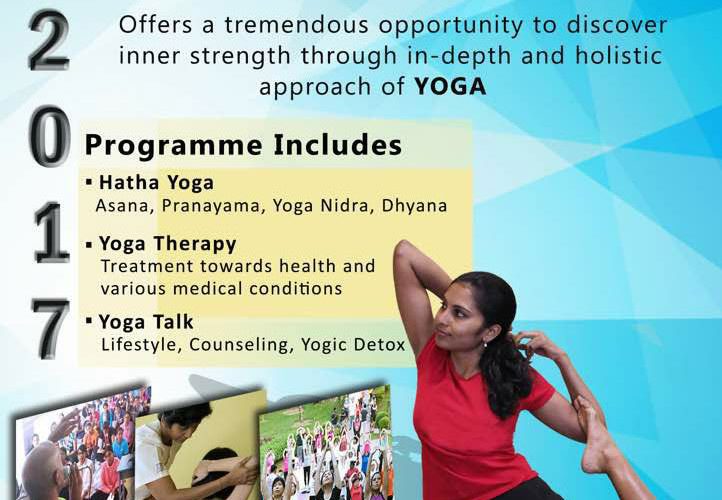 By Chandra Nanthakumar
When the heart has tasted nectar, it will want a continuous flow of it to nourish the self. This is what that has propelled the Malaysian Yoga Society to expand from the National Yoga Camp, a programme for the public which caters for children, to the MYS Yoga Clinic, a programme for adults. This year, the MYS Yoga Clinic has targeted specifically three locations – Desa Mentari, San Peng and Sentul Pasar.
It was a dream come true for all of us as we were funded by the Special Unit Programme for Socioeconomic Development of Indian Community (SEDIC) to reach out and teach yoga to those in need. Life at these three areas is not only challenging, but also clouded with mounting social issues.
Under the guidance of one of our most dedicated Karma Yogi, Ravin.S, the volunteers and instructors started working from scratch. They not only had to design marketing techniques, advertising, planning and structuring the programme, but also look into the recruitment of participants, and other logistics. Having faith in the effectiveness and teachings of yoga, a group of volunteers from MAYI went from house to house at these locations spreading and sharing the goodness of this meditative movement. Everyone is fully engaged in one tune to experience this divine transformation.
Extending one hand to help somebody has more value than joining two hands in prayer
It was totally a divine selfless journey for all of us as the MYS Yoga Clinic programme brochures and advertisements caught the attention of many and the response was unbelievably overwhelming. Unfortunately, we had to turn enthusiastic callers down as they do not reside at any one of the three locations specified by the Ministry.
In order to ease the recruitment process, mass sign-up was implemented at all locations prior to commencement of the programme. In just over a period of two weeks, our devoted volunteers managed to obtain almost 200 sign-ups for all three locations. The sign-ups had to go through a filtering process to ensure they met the criteria for inclusion set by SEDIC. Upon completion of the selection process, participants were informed of the outcome.
The MYS Yoga Clinic was launched on 4th June 2017. The programme is currently on-going. It encompasses the following:
Hatha Yoga:  Poses (asana), breathing techniques (pranayama), yoga nidra (deep relaxation) and dhyana (meditation)
Health Awareness of Yoga: Yogic insight into common health-related issues
Yoga Talks: History of Yoga, 8 Limbs of Yoga, Yama & Niyama, Lifestyle, Counselling, and etc.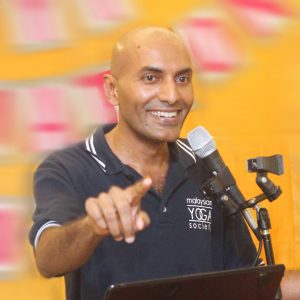 The entire programme is conducted by certified yoga instructors and yoga wellness consultants. Nothing beats the euphoria as participants share how they have benefited from the programme. Some have acknowledged tremendous improvement in their lifestyles.
Master Manisekaran, the founder and backbone of Malaysian Yoga Society, adopted one of the location, Sentul Pasar, to conduct the programme for continuous 14 weeks. Running the programme at all three locations simultaneously has been a daunting task; nevertheless, our volunteers and trainers are not only fully committed, but also genuinely passionate about what they are doing to make a difference in one's life.
Duration: 4th June – 3rd Sept 2017 (14 sessions)
Day & Time: Every Sunday, from 8am to 11am
Locations:
– Desa Mentari (SJKT Seaport)
– San Peng (SJKT San Peng)
– Sentul Pasar (SK Convent Sentul I & II)
Age: 20 to 50 years old
Targeted Group: Adults in the B40 Income Category (household monthly earning of RM3900 and below)
No payment is required from participants.
Breakfast is provided.
Participants must be residents of Desa Mentari, San Peng or Sentul Pasar.
Limited to 30 participants ONLY for each location.
For inquiries and registration: +6012 6900063 (Ravin.S)