March 29, 2021

Posted by:

admin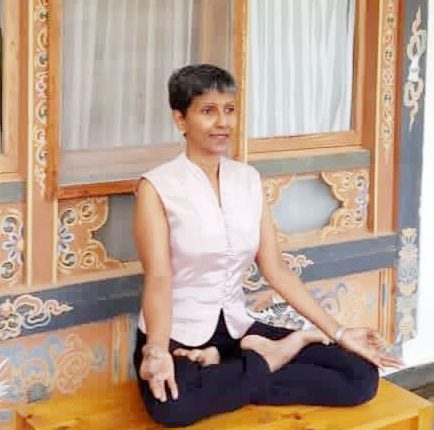 My journey into yoga started when I was in my teens; it was my cousin who first introduced me to the Surya Namaskar. When I stepped into the university, I met a lovely undergraduate, Ms Mani, who spokes to me at length about the art of meditation and enriched my curiosity by teaching me some 'asanas'. However, due to immaturity and lack of understanding, I reckon, I inadvertently let it slip away.
It was not until I met my Guru, Master Mani (the founder of MAYI) when my whole perception about this ancient practice changed and began to etch in my mind. This happened more than a decade ago when I enrolled in the Instructor's course at MAYI; that was certainly a milestone in my life. The teachings were so explicit and structured, and in quest of wanting more, I embarked on many certificate courses MAYI had to offer from the Pregnancy Instructor's course, to Dharana, Dhyana, and also the Yoga Therapy and Pranayama courses. No words can describe how I felt then and how I feel now. To family and friends, I may have appeared more knowledgeable, but on the inside, I could feel a radical transformations taking place within the self – I was becoming more intuitive, more mindful and much calmer.
Fast-forward, the burning desire to share this bountiful knowledge crept in, so, I started not only teaching yoga, but also conducting workshops and teacher-training courses at MAYI. All these endeavors have made me nothing but simply a better person in demeanor.
As a yoga instructor/therapist, I find myself truly blessed because I am not only able to instruct a physical class, but also impart the art of self-healing and self-care to all those who need it. Whenever I get a call or a message from a student who tells me that they managed to heal themselves through the yogic practices that I have shared with them, a sense of euphoria penetrates deep within me.
As a shishya (pupil), I still continue with my own sadhana, and study kriya under the tutelage of my benevolent Guru. It is my dream to walk in my Guru's path in spreading the invaluable benefits to all and sundry who is in appreciation of this ancient philosophy. Lastly, I cannot thank my Guru and MAYI enough for showing me the path in managing my health issues, and enriching me with a science which is believed to have started at the very dawn of civilization. Namaskar.