MAYI Graduation 2019 – Achieving Balance with Yoga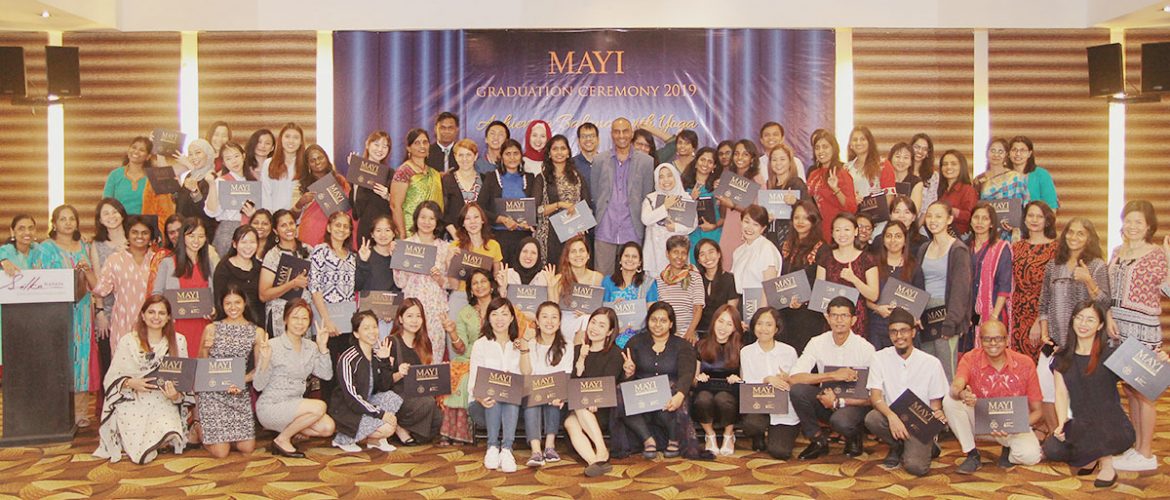 First and foremost, a big congratulations to Class of 2019! This year, the MAYI Yoga Academy Graduation Ceremony for 2019 was held on November 9, 2019 at Silka Maytower in Kuala Lumpur. The aptly themed event "Achieving Balance with Yoga", saw graduates of different ages, nationalities and professions coming together for a common vision – to embrace and share the amazing benefits of yoga.
Upon arrival, graduates were greeted by a photo booth where they could take photos of themselves striking yoga poses, and be in the running to win a special grand prize  –  a one-night stay at Gold Coast Morib!
The ceremony was officiated at by Master Manisekaran with a heart-warming speech to congratulate all the graduates while sharing his profound philosophies on important yoga practices for physical, mental and emotional health in the modern world. It surely grabbed the attention of all those who were present at the event! The crowd was then delighted by the group performance of the International Yoga Instructor Course students exhibiting their skills and confidence in a group performance.
Proud faces were seen as the graduates walked up the stage to receive their certificates.  It was truly wonderful to have so many graduates share their knowledge gained from the International Yoga Instructor Course, Pranayama (Breathing Techniques) Instructor/Practitioner Course, Dhyana (Meditation) Instructor/Practitioner Course, Super Yoga Kids Instructor Course, Pregnancy Yoga Instructor Course, Yoga Therapist Certification Course, Ayurveda Massage Therapist Course, Kundalini Kriya Yoga, Manipuraka and Urdhva Retas. We thank Ing Jo Ann, Ranjani, Isabella Raniee Silvester, Maalathi and Vivian Wong for sharing their insights and experiences in their respective certification courses.
Right before the tea break, the crowd was awed by a special  yoga dance performance displaying the grace and beauty of movements in yoga, followed by the announcement of Lucky Draw winners who won a variety of gifts, including yoga courses, workshop vouchers, and yoga merchandises.
The ceremony continued with the much-awaited presentation of the International Yoga Instructor Course certificates of all levels – Foundation, Intermediate and Advanced, and wound-up with the announcement of a large group photography session to commemorate this special event. Many were seen staying behind to snap photographs with fellow course mates, and to enquire about the other certification courses MAYI has to offer. All the best to Class of 2019!