MAYI Retreat 2019 – Learning the Essentials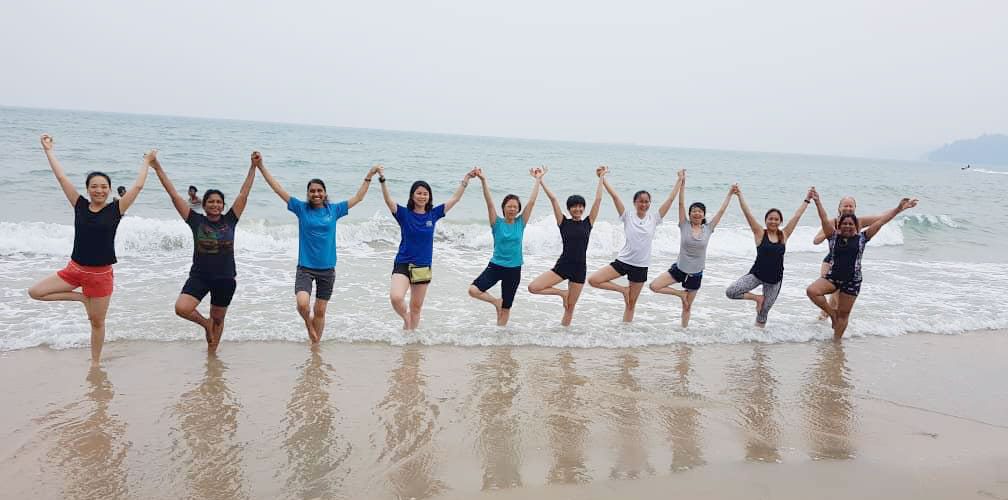 MAYI Yoga Academy's 3 days/2 nights Yoga Retreat with Master Manisekaran was held recently. This time, the chosen location was Teluk Batik, Lumut — a cozy place where there were plenty of greens at the back and a serene looking cove at the front.
Over the 3 days, we saw the participants actively engaging themselves in all the programmes lined up for them — starting the days early with Shatkarma sessions, strengthening the body with Hatha Yoga sessions and calming the mind with nightly Trataka and Meditation sessions. But certainly, these were not the only practices that were taught.
Master Mani filled the rest of the hours with his explanation about some of the most important yoga texts ranging from the Hatha Yoga Pradipika, Yoga Upanishads, Gheranda Samhita, Siva Samhita and Yogopanishad. The profound philosophies of each of the texts were explained in easy-to-understand modern terms, and the participants were even guided through the entire asana series featured in the Gheranda Samhita!
Here's what some participants had to say about the retreat:
My first yoga retreat did not disappoint. Hatha yoga with Master Mani was amazing! I learnt so much about the philosophy of yoga as well, which really resonated with my beliefs. I will always treasure the importance of treating myself with love. And to top off the weekend I was surrounded by a great group of beautiful people! ? #grateful ?
Lisa Tanaka
This was a great retreat as I learnt many new yoga texts and an eye opener as I learnt many new yoga asanas. My Yoga family members have just became bigger!
Sri Shan
We practiced a myriad of Asanas – skilfully guided by Master Mani. It was amazing the way he shared variations and modifications so easily and seamlessly and how he always encouraged us do our best within our capacity, staying true to the philosophies of yoga. All of this — truly a yoga teacher's dream in my books — as I learnt how to teach while I added to my own bank of knowledge. We were guided through pranayama and meditative practices — from the most basic that we can do anywhere and at any time, such as focusing on our breath to more advanced practices. What I also found new and fascinating was learning about the ancient texts, which was shared in such a simple, intelligible fashion and the yoga dialogue session where many of the participants shared generously and passionately about issues close to their hearts, and the topics discussed were no doubt thought provoking. And it was all very fittingly summarised by Master Mani, with myths dispelled and light shed on many of the issues and beliefs.
Dr Sumathi